Experience the aesthetically designed, interactive interface of Android Lollipop on the Micromax Xpress 4G. Some of the features of this operating system include lock-screen notifications, priority mode which customizes app usage for faster access and pin apps feature which limits access of apps to external users.
This phone comes with a microSD card slot which supports a 32 GB SD card, so you can store all your documents, music, apps and videos in your Micromax device.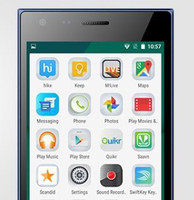 The Xpress 4G comes loaded with a variety of apps such as Chaatz, Clean Master, Hike, Quikr and more.